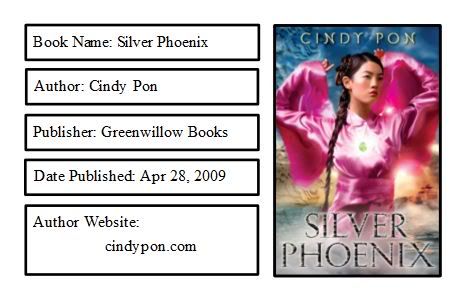 On the day of her first betrothal meeting--and rejection--Ai Ling discovers a power welling deep within her. She can reach into other people's spirits, hear their thoughts, see their dreams…and that's just the beginning.

Ai Ling has been marked by the immortals; her destiny lies in the emperor's palace, where a terrible evil has lived, stealing souls, for centuries. She must conquer this enemy and rescue her captive father, while mythical demons track her every step. and then she meets Chen Yong, a young man with a quest of his own, whose fate is intertwined with hers. Here is a heart-stopping, breathtaking tale for fans of action, fantasy, and romance--of anything with the making of legend.
The plot of Silver Phoenix is really the center-point of the book. Like most classic fantasy it revolves around the quest Ai Ling is on and the people she meets and travels with. There has been a great deal of work put into the worldbuilding, and the connections with real Chinese culture through its religion, customs, and even food are bountifully evident. The characters deal with a lot of trouble, too, and Pon isn't shy about putting her characters in danger. There never seems like an obvious way out, which I liked. The characters had to think, and I did too, but the way out was always a result of their cleverness and reaction, not coincidence. These fights do serve to disconnect the book, though. Like a lot of epic fantasy the story can seem like a series of side quests unrelated to the overall arc for a great part of the book. I think that fans of the genre will find the plotting excellent, though, because the side plots are enjoyable and do bring the protagonist closer to her final battle.
Ai Ling is the definition of a strong female character imo. She has flaws and strengths that are realistic, and her powers have pluses and minuses as well. She makes decisions based on logic and her gut, and everything seems to follow her characterization well. With such a strong lead it is harder to develop the people around her, and some of the lesser characters fall a bit flat because of it. Chen isn't one of those, though. Chen is a great male role model, supportive without being overbearing or overprotective but still flawed. The romance that develops is realistic and lasting, not a love-at-first-glance surface relationship but a true partnership that strengthens both of them. However, they are still individuals as well, and the ending only served to underscore their connection as well as their individuality. If I had to find a flaw in the book, though, it would be with Zhong Ye. His motivations weren't always apparent, and I was left feeling that his actions were a little off from his characterization. He needed some more time in developing who he is and why he acts as he does.